Will you be next to begin your Accredited Kanban Trainer journey?
One of our favorite moments at Kanban University is certifying a new class of eligible Accredited Kanban Trainers (AKTs). It is exciting to see these dedicated individuals poised to share their passion for Kanban after learning the Kanban Method, practicing it in their organizations, and completing intensive study in the Kanban Train the Trainer (TTT) course.
You have three more chances in 2023 to start your AKT journey by attending the TTT. The dates below are open for applications, including two virtual classes and one in-person class at Kanban India with Todd Little, Chairman of Kanban University.
Not sure what's next on your Kanban development path? Drop us a message at KU@kanban.university and we'll help you figure out the best route.
Upcoming Kanban Train the Trainer Classes
Trainers: Todd Little, Joey Spooner, and Bianca Griffioen
Language: English
Location: Online
In-person at Kanban India
Trainer: Todd Little
Language: English
Location: Bengaluru, India
"The whole experience with the TTT course was very rewarding! We learned a lot thanks to Fernando's great experience and the contribution of the excellent professionals who participated in it.
Despite the fact that the course includes several days of extensive training, the classes are very dynamic, allowing us to question concepts and explore different ways of explaining them.
Thank you Fernando and Kanban University!"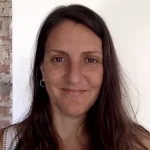 Cecilia Scauso
May 2023 Kanban Train the Trainer Alumna
Kanban Coaching Professional
Kanban Management Professional