How Can Kanban Succeed Even Where Other Change Initiatives Have Failed?
Applying Kanban's gradual, non-traumatic approach to change, and leveraging the Kanban Maturity Model, coaches see more buy-in and greater success. Learn the techniques and mindset to extend your coaching skills.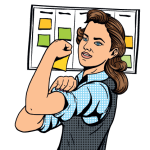 Learning Objectives
Psychology and sociology of change; Change management and resistance to change.
Motivating and Implementing change.
Using the Kanban Maturity Model (KMM) as a tool for change and improvement.
Who Should Attend?
This class is intended to extend the coaching skills of those who have already taken the Kanban Maturity Model class and want to obtain the Kanban Coaching Professional (KCP) credential. Together with the KMM, this course provides the full playbook of current Kanban coaching techniques.
Benefits
Improve trust, transparency, collaboration, empathy, and quality.
Duration
In person two day course or 16 hour virtual course.
Pre-Requisites
The Kanban Maturity Model (KMM) course is required to attend this course.
Kanban University Certified Training
Participants will receive a certificate of completion for the Kanban Coaching course. Students completing both the Kanban Maturity Model and this class and who are also Kanban Management Professionals (KMP) are eligible to take the Kanban Coaching Professional (KCP) credential exam.
KCP Credential Exam and Eligibility
The Kanban Coaching Professional is an internationally recognized, advanced-level credential. Successfully passing the KCP exam demonstrates not only full and comprehensive mastery of the Kanban Maturity Model and Kanban Coaching curriculum but also the possession of skills to lead and evolve an organization to higher levels of maturity.
KCP credential candidates must successfully pass the Kanban Coaching Professional exam with a 75% score and pay a one-time $250 USD (PPP adjusted where applicable) Credential activation fee. For more information about the KCP Exam, please message KCP@Kanban.University.
The public will be able to clearly recognize a KCP as an expert in their field and trust that they hold a specific set of effective coaching tools that lead to better business outcomes.

Interested in staying up to date on the latest Kanban News and Resources? Sign up for our mailing list today!