Kanban University Development Path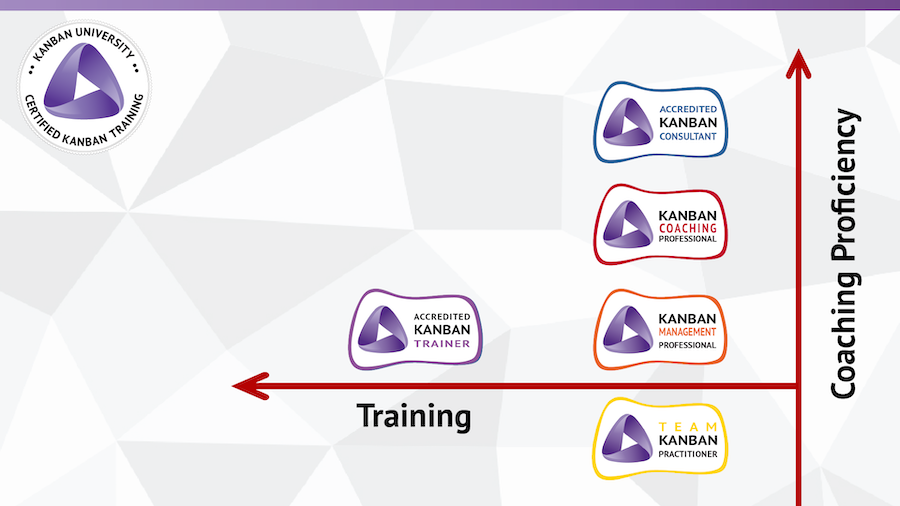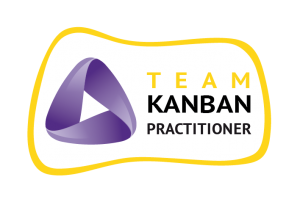 Team Kanban Practitioner (TKP) – This credential is granted upon the completion of the Team Kanban Practitioner course. It is designed to introduce the principles of Kanban for a team to get started or for the complete team to get the appropriate exposure to be effective within a Kanban system. The TKP is not required for other credentials, however many people new to Kanban may find TKP to be the best entry point.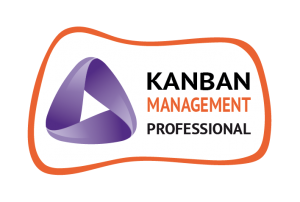 Kanban Management Professional (KMP) – This credential is granted upon the completion of two classes. Kanban System Design, which teaches the basics of Kanban, flow, and how to design a Kanban system. Then either the Kanban Systems Improvement course, which teaches how to evolve, improve, and scale a Kanban system or the Kanban for Design and Innovation, which teaches how to establish an upstream Kanban system may be chosen to complete the KMP Credential requirements.
KMPs should be able to design a Kanban system and evolve and scale it beyond the team.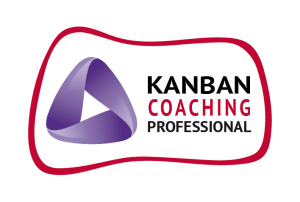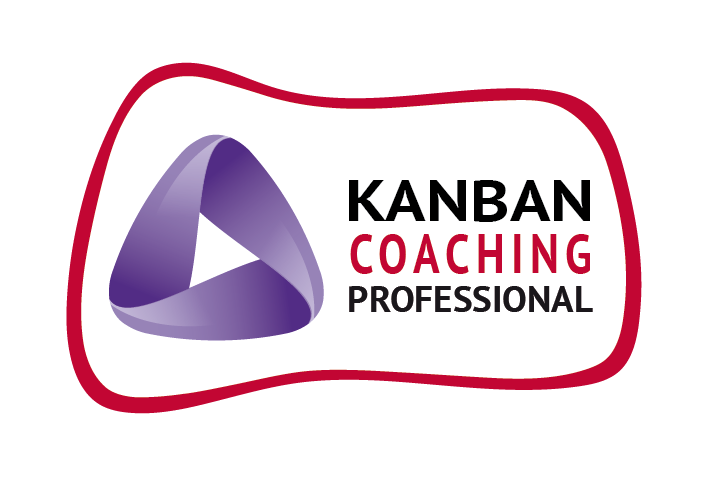 Kanban Coaching Professional (KCP) – This credential is available for application upon the completion of two courses, the Kanban Maturity Model and the Kanban Coaching courses. In addition, the individual must have met the KMP Credential requirements.
The KCP is an advanced-level credential. Effective June 1, 2023, credential candidates must successfully pass the Kanban Coaching Professional exam with a 75% passing score. Successfully passing the KCP exam demonstrates not only full and comprehensive mastery of the Kanban Maturity Model and Kanban Coaching curriculum but also the skill to lead and evolve an organization to higher levels of maturity. The public will be able to clearly recognize a KCP as an expert in their field and trust that they hold a specific set of effective coaching tools that lead to better business outcomes.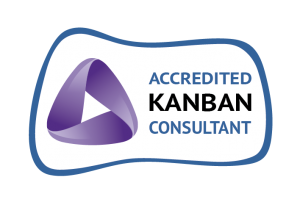 Accredited Kanban Consultant (AKC) – This high level of accreditation is granted based on a thorough review of each candidate. Candidates must complete the Change Leadership Masterclass in addition to meeting all the requirements of a KCP. They must complete a coaching journey essay and must pass a live review with peer AKCs. AKCs are recognized and endorsed by Kanban University as highly qualified to successfully coach change initiatives for improved service delivery using the Kanban approach.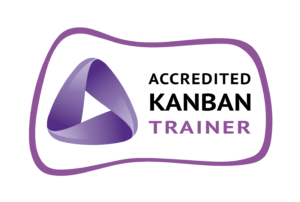 Accredited Kanban Trainer (AKT) – This high level of accreditation is granted based on a thorough review of each candidate. Candidates must be Kanban Management Professionals, take the Kanban Train the Trainer course, and must demonstrate their ability to effectively train the materials for the TKP, KSD, and KSI courses. AKTs are accredited by Kanban University as being able to train the Kanban University curriculum.
Additional Kanban University Certified Courses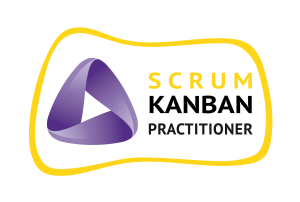 Scrum Kanban Practitioner (SKP) – Improve your Scrum by adding the practices and evolutionary change approach from the Kanban Method.
Scrum Better with Kanban can help you improve your Scrum through the introduction of proven Kanban practices, principles, and application of evolutionary change management. This course captures the lessons learned from Scrum Teams that successfully evolved their way of working through evolutionary change using the Kanban Method. Our hands-on training will ensure that you walk away with a proven approach to introducing changes that will deliver results for your team and organization.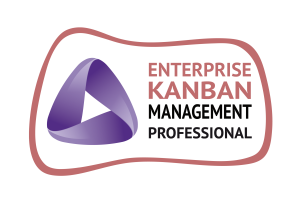 Enterprise Scale Kanban (ESK) – This course teaches how to create executive dashboard reporting for multiple business units allowing you to roll up results from a workforce of up to tens of thousands of people. Take service-oriented thinking from the Kanban Method and KMP training to the next level by learning the practices needed for effective dependency management.
An Enterprise Kanban Management Professional (EKMP) understands what is necessary to take an organization to maturity level 4 and to implement a network of interconnected dependent Kanban systems that might support an entire business unit of 300 to 1200 people.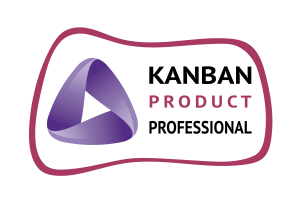 Kanban Product Professional (KPP) – A Kanban Product Professional is an expert in managing upstream, discovery, and innovation activities leveraging the power of the Kanban Method, Enterprise Services Planning, and the Fit-for-Purpose Framework to manage risk, select the most valuable work, and schedule it at the optimal time. KPPs maximize the flow of value by feeding delivery Kanban systems with the best possible mix of work, enable improved customer satisfaction and better economic outcomes by segmenting markets by customer purpose, building empathy, and optimizing features and functionality to manage the complex fitness landscape of their market and product domain.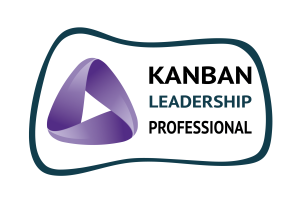 Kanban Leadership Professional (KLP) – The Kanban Leadership Professional credential is designed for those holding operational management and leadership positions in companies pursuing a business agility transformation.
Learn to Drive evolutionary change, how your organization can build trust, and build organizational resilience (and maturity).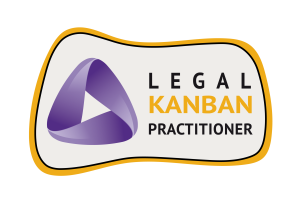 Legal Kanban Practitioner (LKP) – Applying Kanban in legal teams and organizations offers a new way to design, manage, and deliver legal services focusing on understanding and satisfying the business and client needs, while enabling a human approach to change that minimizes or avoids resistance.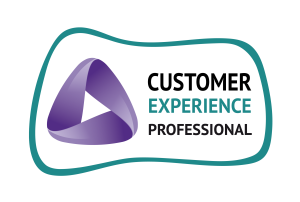 Fit for Purpose (F4P) – This class will offer you significant new insights into how to optimize the effectiveness of your business, to produce fit-for-purpose products and services that delight your customers, making them loyal to your brand and increasing your share, revenues, and margins.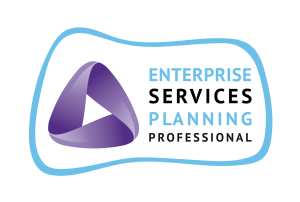 Enterprise Services Planning (ESP) – Aligning strategy with our market and capability; Fitness Criteria; Modern KPIs; Anti-Fragility. Delivery of strategic goals depends on fast coordination across your enterprise. Combining visibility, focus, and data-driven decisions, Enterprise Services Planning is a complete management system that takes business agility to another level.