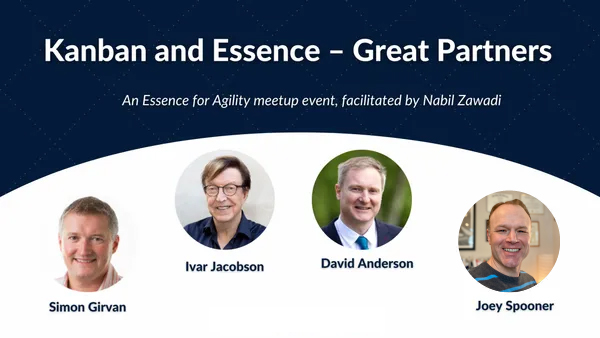 Wednesday, February 22, 2023
7:00 – 8:30 PM CET
6:00 – 7:30 PM GMT
1:00 – 2:30 PM EST
​10:00 AM – 11:30 PM PST
The Kanban Method is being applied successfully in a broad range of services and sectors while the number of practitioners and experts is also growing. Like many popular approaches, Kanban is frequently misunderstood and misapplied.
Join Ivar Jacobson International and Kanban University as we bring Essence to the Team level of Kanban in this online meetup.
"Essentializing" the principles, practices, and key concepts from the Kanban Method opens up new ways for practitioners to improve their organization while using managed evolutionary change in their context.