Be a Part of Kanban University's Next Decade of Growth
This past year has tested us all. Kanban is providing the resilience needed in today's world as proven in our Latin American and Eastern European markets.
We have witnessed the benefits of bringing Kanban outcomes into the work lives of many around the globe. We saw relief from overburdening; improved service delivery; and the strength, robustness, and ability to survive in an uncertain world that comes from enabling evolutionary change.
Kanban University certifications have been on the rise over the last decade, and in 2020 Kanban was needed more than ever.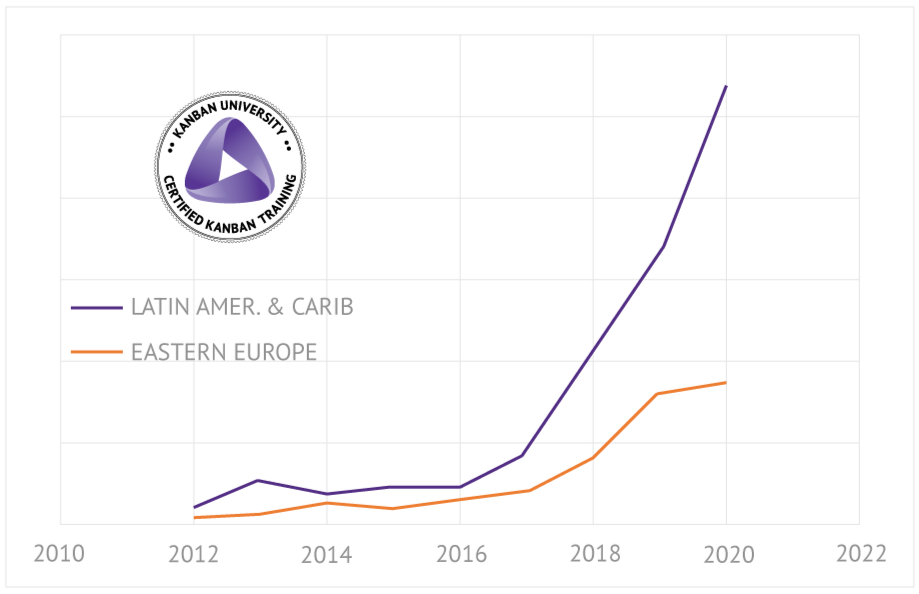 Be a Part of Kanban University's Next Decade of Growth 
If you are interested in becoming certified in the Kanban method, start your journey now with Certified Kanban classes.
Have you have seen the benefits of Kanban and want to share your experience? Have you thought about becoming an Accredited Kanban Trainer (AKT)? Did you know you can attend the Kanban Train the Trainer in Spanish?
If you are a Kanban Management Professional (KMP) and would you like to spread Kanban in this rapidly growing market, contact us about starting your AKT journey.
We also offer TTT classes in English in a number of time zones.
The TTT does not teach kanban. Students must have achieved the Kanban Management Professional (KMP) credential and be able to present a kanban case study.